APSTAR-9 satellite now in AIT Phase
Since October 2014 APSTAR-9 satellite entered its assembly, integration and test (AIT) phase. The manufacturer CAST carried out AIT in its High Bay located in Beijing. The components for platform have all been installed and SPT1 (Satellite Performance Test) started, mainly verifying electrical interfaces between each on-board subsystems and ground testing equipment. In parallel, payload units are mounting on COMM panel and expect its End to End test commences early 2015.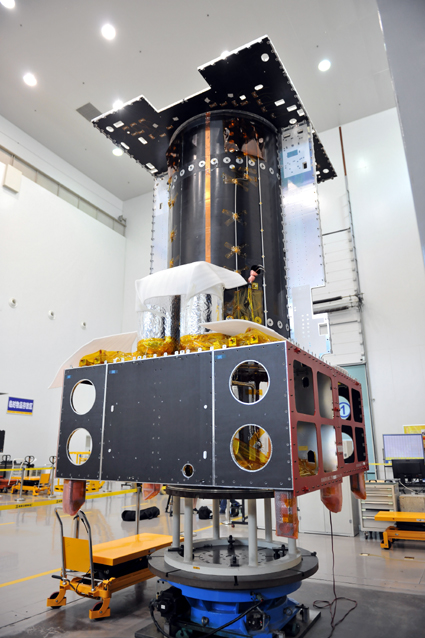 Launch service progressed as schedule, launcher structure, main engines and electrical system are manufacturing normally, the AIT is expected March, 2015.
Presently all the milestone of APSTAR-9 satellite program are in line with the schedule, the satellite will be launched in 2nd half of 2015.
About APSTAR-9: a DFH-4 series platform provided by CASC (China Aerospace Science and Technology Corporation). APSTAR-9 will be located at 142E orbital slot to replace APSTAR-9A satellite. APSTAR-9 is equipped with 32 C-band and 14 Ku-band transponders. C-band transponder consists of one broad beam for Asia Pacific region and one enhanced beam for South East Asia, suitable for video broadcast, VSAT networks and cellular backhaul services, Ku-band will cover West Pacific and East India Ocean region, providing DTH, VSAT, maritime and inflight connectivity services.