APT Satellite Held Knowledge Sharing Workshop in Cambodia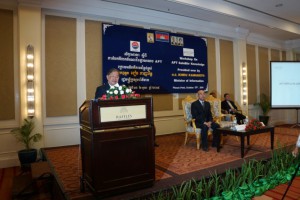 APT Satellite held the Knowledge Sharing Workshop in Cambodia on 13 Oct 2014, the topics included satellite fundamental knowledge, WIMAX interference problem & solution, satellite TV theory, and ground facility building.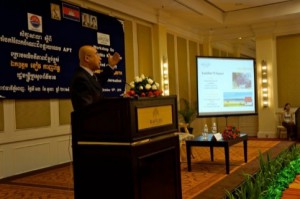 In the workshop, Mr. Huang Baozhong, Vice President of APT Satellite, said that APT Satellite, as a leading regional satellite operator, has been operating eight (8) geo satellites in its 22 years history. Through the workshop, its knowledge about satellite operation and experience in providing satellite broadcasting and telecommunication services would be shared with Cambodian colleagues.
The Minister of Information Cambodia H.E. Khieu Kanharith thanked to APT Satellite for their hospitality and for hosting this workshop in Cambodia to provide learning opportunity as targeted to upgrade technical knowledge of Cambodian professionals. APT Satellite would receive highest trust from local TV stations such as CTN (Cambodia TV Network), SEATV (Southeast Asia Television), TV3 Cambodia as well as other TV channels who are interested to tap the satellite resources.
The workshop was well received by audience. A number of the TV channels and the local press have broadcasted the news.