APT Satellite participates CABSAT 2014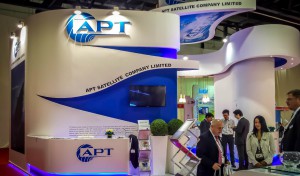 APT Satellite exhibited in CABSAT 2014 on 11-13 March 2014 in Dubai. Over 12,000 trade visitors from 100+ countries attended the exhibition.
The launch of APSTAR 7 satellite in 2012 brought the company to the center stage of Middle East's satellite capacity market. With its vast coverage in the area and special bridging function to Europe and Africa, APSTAR 7 attracted most inquiries from the visitors.
APT Satellite also showcased an i-direct system that is dedicated to improving corporates' internet infrastructure in Africa.
About CABSAT: Most established trade platform for digital media & satellite sectors across the Middle East, Africa and South Asia region. This year is its 20th Anniversary. CABSAT 2015 will be held on 10-12 March 2015 in Dubai.