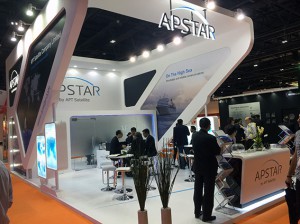 It is the first time appearance for APSTAR'S new LOGO on CABSAT 2015 exhibition. On Dubai CABSAT 2015 exhibition which ended last month, APSTAR showcase new LOGO and booth style. It attracted a large number of customers in the MENA region. "During the three days exhibition, APSTAR booth has served more than 100 groups of clients from different countries", said by the the regional sales director THOMAS. Vice president of sales Mr Huang baozhong also added that:" The customers mainly come from different countries in the region, such as Pakistan, Bangladesh, Indonesia, the Middle East, Africa and other places. CABSAT is a window for APSTAR to the MENA market; we will continue to increase our investment in this region. We will continue to improve our services on APSTAR 7, so that we can bring more competitive and better services to the MENA customers."
During the CABSAT exhibition, vice president Mr Huang is interviewed by WTA organizations, he elaborated modern satellite communication related challenges and opportunities and also shared the lessons and setbacks encountered by APT Satellite.
A KEY NOTE seminar sponsored by the GVF was held on CABSAT. Major satellite companies' representatives gave their speech in the seminar. Mr Huang, on behalf of APSTAR gave a 15 mins speech regarding MENA markets. The speech describes today's broadcast and condition of the telecommunications market in the Middle East and North Africa, and the current key driving factors to help the business development in the region. Huang Baozhong stressed that the current imbalance between supply and demand in the MENA region, oversupply led to the development of the local market is not healthy. Mr Huang also emphasis his opinion against the decision of the recent ITU prepared to withdraw satellite spectrum for terrestrial wireless communications.