TSGN collaborates with APT Satellite on COMMUNICATION SATELLITE PROJECT
(Hong Kong, 12 May 2015) - APT Satellite Company Limited ("APT Satellite"), a leading regional satellite operator, and TS Global Network Sdn Bhd ("TSGN"), Malaysia's premier satellite communications ("SATCOM") services and solutions specialist, today jointly announced TSGN's investment in a designated payload (transponder capacity) on APT Satellite's APSTAR 9 Satellite to be launched in Q4 2015. The designated payload will also be known as TSGN MySAT-1.
The satellite payload will propel privately-owned TSGN's growth trajectory and ambitions to play a leading regional role in delivering reliable, high speed and affordable SATCOM communications and solutions to a wide spectrum of government and commercial customers. It will also play a pivotal role in bridging the digital divide by offering similar services to the underserved and un-served areas in Malaysia and the region in general. Targeting the ASEAN and Asia Pacific markets, TSGN aims to build on a strategic business model based on smart collaborations successfully built to date in Brunei and Indonesia to gain rapid access to serve its target markets via MySAT-1.
"TSGN has the talent, the technology, industry honed experience and now, long term satellite capacity via MySAT-1 to offer and deliver a compelling and competitive portfolio of solutions in meeting the rapidly growing appetite for broadband communications. We are cognizant of the financial and regulatory hurdles and demands in pursuing a bold approach to ramping up our regional growth and have adopted a red ocean strategy to map out our journey. This collaboration with APT Satellite is an illustration of our strategy." said T. Dhrmarajah Dhashna, TSGN Group Managing Director at the signing of the collaborative agreement here.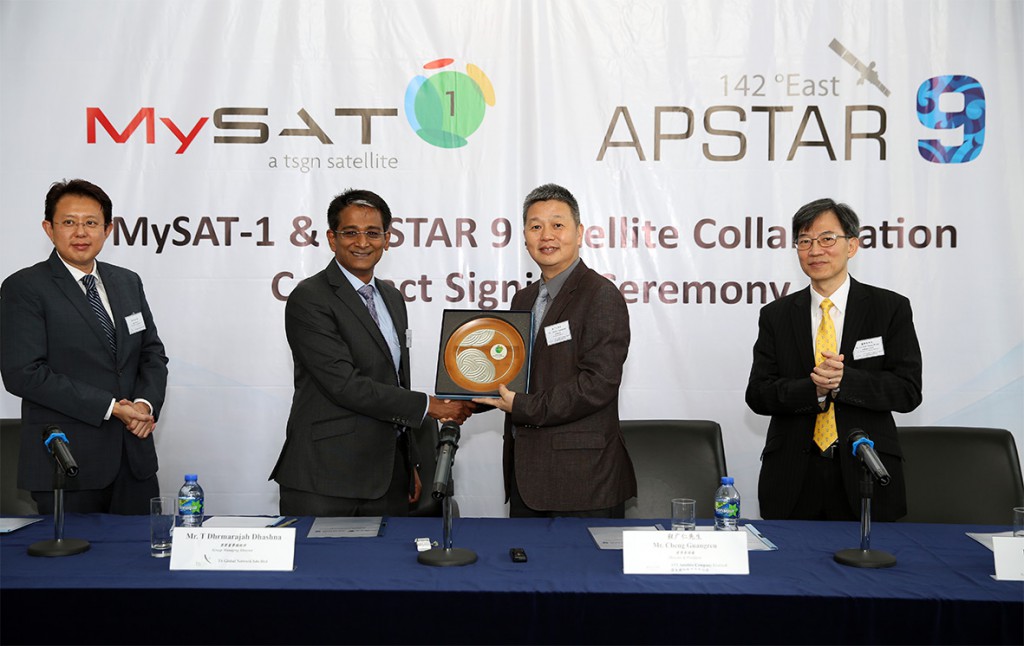 TSGN and APT Satellite present gifts to each other at the contract signing ceremony
From left: Kent Ho, Group CEO of TSGN; T. Dhrmarajah Dhashna, Group Managing Director of TSGN; Cheng Guangren, Director & President of APT Satellite; Lo Kin Hang, Vice President & Company Secretary of APT Satellite
Dhashna said TSGN had decided on the collaboration of the satellite capacities in an effort to accommodate its demand, commitment and aspiration to scale up capacity and capability.
"This collaboration is a result of meticulous planning, design and evaluation", said Kent Ho, Group CEO of TSGN. "We will continue to build on our capacity beyond MySAT-1 as we see SATCOM playing a complementary but significant role to meet the ever growing demand for Telco services around the region." Ho added.
"APT Satellite has been providing satellite services in the region for over 20 years. TSGN has been our valuable long term customer. APT Satellite is also pleased to support TSGN in its business development based on APSTAR System's comprehensive and excellent quality services in the region. The company is pleased to have the opportunity to join hands with its long term customer, TSGN, in offering the C-band transponders on APSTAR 9 Satellite." said Director & President of APT Satellite, Cheng Guangren.
"The collaboration is very important for the strategic development of APT Satellite in the long run because it will further extend our market penetration and enhance customer base in the region." Cheng added.
Both APT Satellite and TSGN aim to forge a win-win model by leveraging the collaboration on this satellite to rapidly ramp up broadband data, video and other services in the ASEAN Region and look forward a long-term and fruitful business cooperation.
ABOUT TSGN
TS Global Network Sdn Bhd (TSGN), a privately-owned Malaysian company, is a premier satellite communications (SATCOM) services and solutions provider with an evolving presence in the ASEAN region.
As Malaysia's largest VSAT (very small aperture terminal) technology provider, TSGN serves more than 150 Malaysian corporations and multinational companies comprising oil and gas majors, plantation conglomerates, banks, telcos, defence, security, education and health institutions throughout Malaysia, Indonesia and Brunei.
TSG International, a subsidiary, owns and operates TSGN's state-of-the-art RM100 million cyberport at Cyberjaya. The Cyberport which constitutes an important element in the ground segment will transform the Company into a fully fledged SATCOM player offering a complete suite of satellite teleport, international IP gateway and data centre in ASEAN and the Asia Pacific region.
For Enquiries:
Eric Pringle Associates Public Relations Sdn Bhd
Art Thamboo Tel:60-3-21617144 Email: art_thamboo@epapr.com.my
Karen Pasqual Tel:012-2453 165 Email: karen.pasqual@epapr.com.my
APT Satellite Company Limited
Dr. Brian Lo Tel:852 2600 2336 Email: brianlo@apstar.com