APSTAR-6D
Satellite Information:
Life Time

≥15 years
Orbital Slot
134°E
Capacity
>50 Gbps
User Beams
90 Beams
Frequency
Ku for user beams, Ka for gateways
Peak EIRP
65.8 dBW
Peak G/T
19.1 dB/K
Features
● Performance enhancement for key air and sea traffic routes and areas.
● Power and bandwidth flexible allocation.
Gateway Information:
| | |
| --- | --- |
| ● | Kuala Lumpur, Perth, Beijing, Shenzhen, Xi'an, Hong Kong |
| ● | 13.2m Ka-band Antennas with mono-pulse tracking |
| ● | Geographical diversity design in tropical area |
| ● | IDC and IP transit capablities |
| ● | Open architecture catering to customers' need |
---
WeSat Platform
Simple, Flexible and Reliable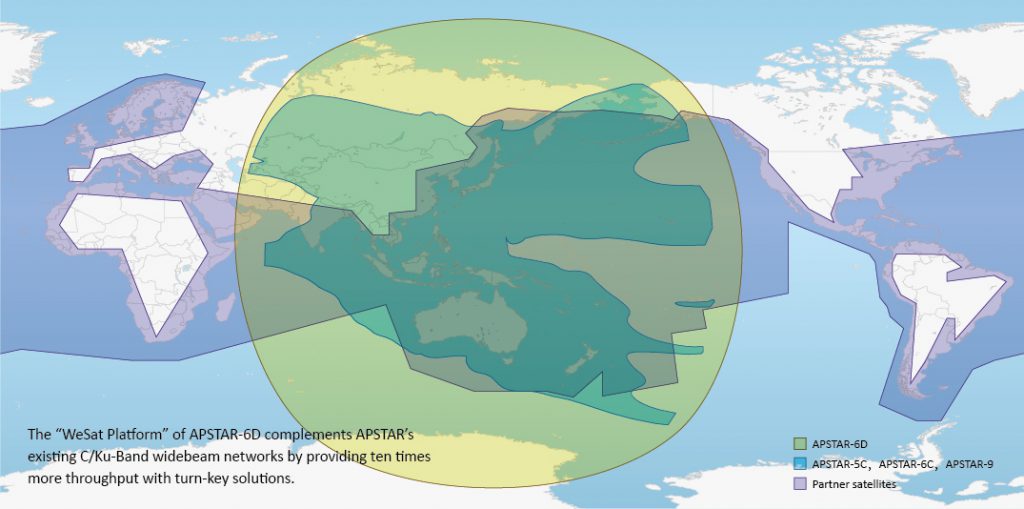 "WeSat Platform" is an intergrated platform comprising multiple satellites around the globe, gateways, backbone fiberlinks, and operation network systems. By using"WeSat Platform", our custmers in sea, land and air can enjoy broadband internet, enterprise network, as well as IoT applications and devices, remote IT connectivity.
For Maritime:
Through the use of more powerful spotbeams in key mobility routes, APSTAR-6D can meet the throughput and performance needs. They will benefit from the global coverages, complemented by parter networks, without switching to other platforms. The IOT function of the "WeSat Platform" enables realtime monitoring and control of the ship status. Smart fishing becomes reality.
For in-flight connectivity:
APSTAR-6D provides flights with four to six times the bandwidth equivalent of the wide beam satellites, while the wide beam ones can cover thin routes outside the coverage of APSTAR-6D. By leveraging a mix of APSTAR-6D and wide beam satellites, as well as existing infrastructures, we offer outstanding performance and best value for airlines.
For Broadband:
With HTS capability, APSTAR-6D enables higher data rate applications and smaller terminals, providing expanded market opportunities that can be served by satellite. For cellular backhaul, APSTAR-6D provides higher data rate required to support 3G/4G/5G backhaul bandwidth requirements, enables satellite as a backup solution for backbone links in less-populated areas, or primary soluition for mobile users in sea, land and air.
For Enterprise Network:
The powerful enterprise networking suite delivers high-performance connectivity to distributed enterprises and government agencies where users most need it. Bring the team together to communicate and share information through email, OA, teleconference etc, with consistent user experience across multiple locations, while reducing the cost and complications of management.
Benefits:
| | |
| --- | --- |
| ● | Higher throughput, smaller terminals and lower costs |
| ● | Open architecture, compatible with existing equipments |
| ● | FULLY MANAGED, APSTAR can manage all aspects of usage, including administration, network support, payment and 24/7 troubleshooting and support |
| ● | Turn-key solution, including satellite capacity, fiberlink, gateway, network operation systems, and satcom hardwares |
APSTAR-6D Footprint