July 9th, 2018 – APT has got an exciting press release comes from our valued customer – Infokom/MNC group
GM Of Sales APT Satellite Hongkong, Jasper Tan (center), Director Of Sales APSTAR Indonesia, S. Indri Kusumayani (Left) With PT Infokom Elektrindo Team, at Booth APSTAR in Communicasia 2018.
Strengthened VSAT Services in Indonesia, Infokom Establish Join Coperation with APT Satellite Company Ltd.
Singapore, June 2018 — As one of the biggest VSAT provider in Indonesia, PT Infokom Elektrindo through Infokom VSAT Solution provides satellite communication Services that able to reach rural area in Indonesia. In a collaboration with APT Satellite Company ltd who one of the biggest satellite company in Asia with new satellite APSTAR 9 using C-Band Frequency that resistant to bad weather condition. General Manager PT Infokom Elektrindo Avi Yunawan said, "Since 2016, APT Satellite Company Ltd has been supporting us in term of providing access internet infrastructure for our brand and program called Akses Internet Rakyat".
Akses Internet Rakyat is the proven commitment from PT Infokom Elektrindo as one of the internet provider at Indonesia for the government especially BAKTI ( Badan Aksesibilitas Komunikasi dan Informatika) that is implementing Universal Services Obligation (USO) Program in Indonesia.
Encountered June 26 2018 in the event of Communicasia 2018 at Marina Bay Sands, Singapore. Director of Sales Indonesia APT Satellite Company Ltd Siti Indri Kusumayani said "First of all we are thank you to PT. Infokom Elektrindo on the opportunity to serve the customers all around Indonesia which are include of governments bodies and private sectors with the best VSAT and satellite services through collaboration and cooperation between PT. Infokom Elektrindo and APT Satellite Company Ltd.
Geographically Indonesia is an archipelago with 2/3 maritime area. That made satellite communication is one of the best solution. With the C-Band frequency, this service is resistant to bad weather condition. APSTAR 9 has an appropriate technology for Indonesia area. "And together with the capability of PT Infokom Elektrindo as one of the best VSAT operator in Indonesia and APT Satellite as one of the leading satellite operator in Asia, we hope we able to deliver our services; data and broadcast services for Indonesia market and as well as for overseas's end users. with the improvements we always do on the technology and services from APT Satellite and for sure we see from PT. Infokom Elektrindo, we hope that both together will always can satisfy our customers and hopefully on beyond expectations level of standards from the customers". Indri Said.
Avi Yunawan hopes that APSTAR can be developed to Infokom's Product and Services in the future. And of course Infokom can support APT Satellite company Ltd to utilize APSTAR Capacities in fulfilment of internet access in Indonesia.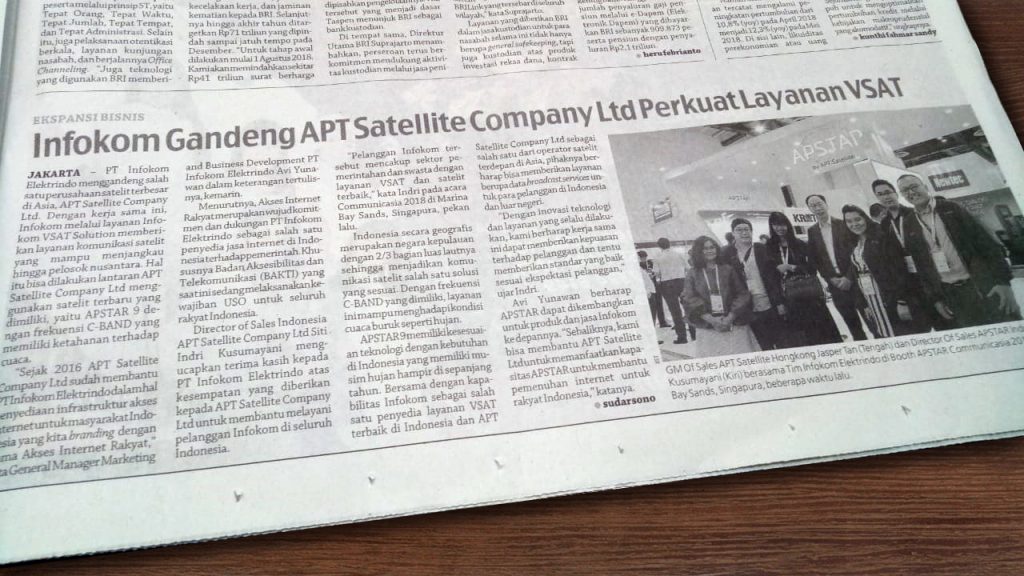 Contact Us
Kustri Cahyoadi
Marketing Communication
PT Infokom Elektrindo
+62 81617231678
Kustri.cahyoadi@mncgroup.com