APSTAR-9 Pre-launch Sales Contract Signed to Boost Maritime Business
APT Satellite, Sinosat(HK) and Shenzhen Marinesat signed a APSTAR-9 pre-launch sales contract in 24 September 2015. Taking advantage of APSTAR-9's supreme ocean coverages, this three-party cooperation will create vertical synergy within the service scopes of three companies.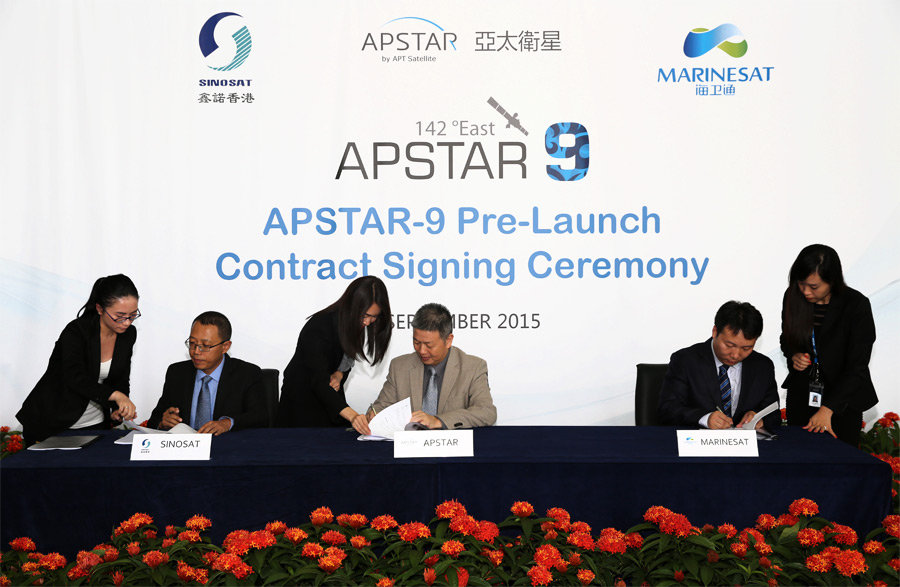 Sinosat founded in Beijing in May 1994, is a wholly-owned subsidiary of China Satellite Communications Group Limited Company, a professional satellite telecommunication services provider. With over 20 years of experiences of providing tailored satellite communication solutions, Sinosat supports and manages more than 100 customers scattered in remote environments around over 20 countries in Asia, Africa, Europe and America. Its services include VSAT, maritime, GSM backhaul, content contribution and distribution, trunk communication, corporate private network, data transmission, Internet, distance learning, broadcasting and so on.
Shenzhen Marinesat is one of the biggest maritime telecommunication service providers in China. The vision of the company is to build the "smart" maritime service platform, and provide broadband internet connection to the vessels and all sorts of functional rigs in the sea.